Recipe: Appetizing Cauliflower and potato curry
Cauliflower and potato curry. This Cauliflower and Potato Curry dish is perfect for a weeknight dinner! It's loaded with delicious spices and comes together so easily! Now finally – this Cauliflower and Potato Curry.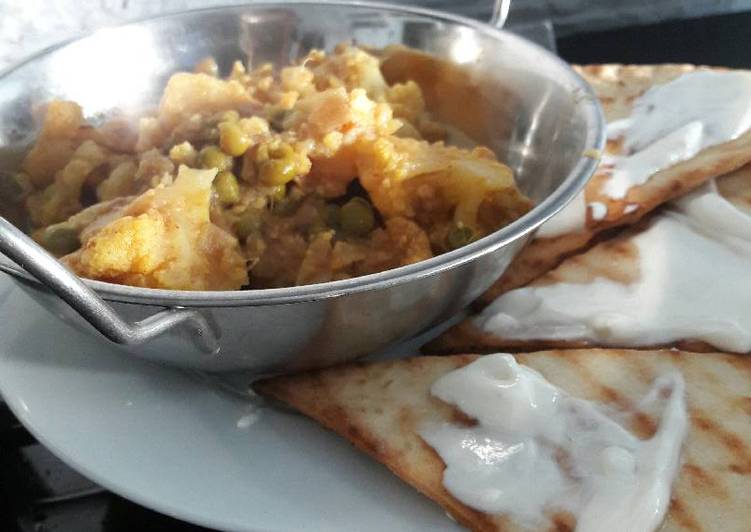 Spread in a single layer on a rimmed baking sheet. Inspired by a traditional Indian cauliflower dish, aloo gobi, I decided to add potatoes to the mix. It makes it a bit heartier and filling, plus the technique I used to incorporate them requires no additional steps. You can have Cauliflower and potato curry using 15 ingredients and 3 steps. Here is how you cook it.
Ingredients of Cauliflower and potato curry
Prepare 1 of medium sized cauliflower.
It's 3 of medium sized potatoes.
It's 1 of medium sized red onion chopped.
It's 1 cup of tomatoes chopped.
Prepare 3 of finely chopped garlic.
It's 1 cup of peas.
You need 1/2 tsp of cumin seeds.
Prepare 1 tsp of chilli powder.
It's 1 tsp of crushed ginger or ginger powder.
Prepare 1 tsp of cumin powder.
You need 1 tsp of turmeric powder.
You need 1 tsp of coriander powder.
You need 3 cups of boiling water.
Prepare 3 tbsp of oil.
It's to taste of salt.
Sweet Potato Cauliflower Curry inspired by aloo gobi with sweet potatoes and roasted cauliflower! In place of regular potatoes I went with sweet because sweet potato's flavor lends itself so well to curry! This cauliflower and potato curry is a delicious vegetarian option that everyone will enjoy. Vegetables braised in an aromatic curry sauce until fragrant and delicious.
Cauliflower and potato curry step by step
First cook the cauliflower and potatoes either in a frying pan with oil for 10 minutes or steam them in a steamer or microwave sprinkle with salt and add some water if using microwave cook for 10 minutes.
Into another larger pan put in the oil on medium heat when oil is hot add the cumin seeds (they should start sizzling) then add the onion stir together for 2 minutes then add the garlic, ginger, tomoates, salt to taste and 1 cup of boiled water cover with the lid and cook for 4/5 minutes..
After turn up the heat stir ingredients until the oil comes out after that add the rest of the spices, cauliflower, potatoes and peas mix well together then add another 2 cups of boiled water turn down the heat to low put the lid back on and let cook 50/60 minutes checking occasionally..
I was quite surprised my growing by the hour teenager consistently chose a cauliflower and potato curry over meat but was also pleased! Curries of all types are very popular in Nepal and cauliflower with potatoes is a favorite. This could be made in a pressure cooker if you have one. Add the cauliflower and potatoes, stirring to coat the vegetables with the masala. A seasonal vegan cauliflower curry with sweet potato, chickpeas, and greens.