Recipe: Perfect Cauliflower and Potato Curry
Cauliflower and Potato Curry.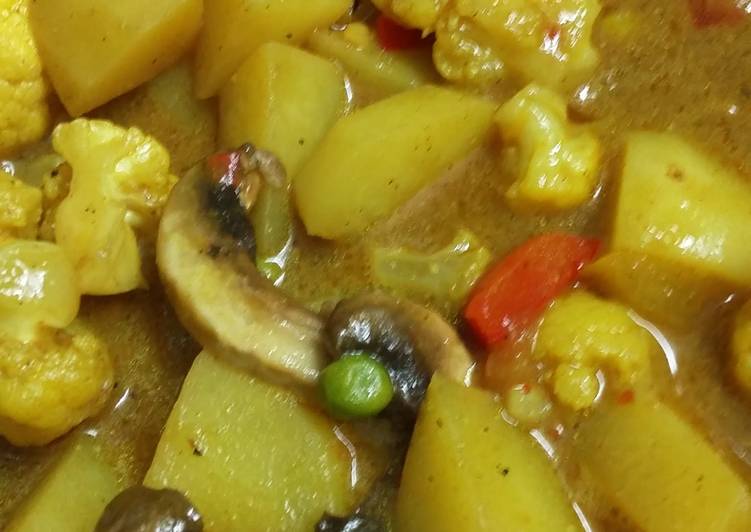 You can cook Cauliflower and Potato Curry using 12 ingredients and 7 steps. Here is how you achieve that.
Ingredients of Cauliflower and Potato Curry
You need 1 head of cauliflower.
Prepare 1 kg of potatoes, cubed.
It's 6 of mushrooms, chopped.
Prepare 1 1/2 cup of Peas.
It's 1 cup of red and yellow bell pepper, chopped.
Prepare 400 ml of coconut milk.
You need 3 tbsp of curry powder.
It's 2 tsp of chili flakes.
Prepare 1/8 cup of ginger, minced.
It's 2 clove of garlic, minced.
It's 2 of small chili peppers, minced.
Prepare 1 cup of chicken stock (if necessary).
Cauliflower and Potato Curry step by step
Wash cauliflower thoroughly and break the head down into florets. Chop the potatoes to make 1 inch cubes. Set aside..
Chop and mince: garlic, chili peppers and ginger. Chop up the mushrooms and bell peppers..
Heat 2 tablespoons of olive oil in a wok or skillet. Add 2 tbsp curry powder, chili flakes and 2 tsp turmeric podwer. Stir frequently so the spices don't burn..
Add the minced garlic, ginger and chili and stir. Add more oil if necessary..
Add the potatoes and stir for 2 minutes. Add the coconut milk. Let boil and simmer for 5 minutes. Add the cauliflower florets. Cover wok and leave for 20 minutes. (If necessary add the chicken stock).
Add the peas and mushrooms and remaining curry powder. Leave for 10-15 minutes until the peas have cooked and potatoes are soft..
Serve over rice..