Recipe: Delicious Potato, cauliflower, broccoli and cheese bake
Potato, cauliflower, broccoli and cheese bake. Cauliflower-Broccoli Cheese Bake Recipe photo by Taste of Home. Stir in cheese and salt until cheese is melted. Fresh broccoli and cauliflower are baked together with a thick cheese sauce!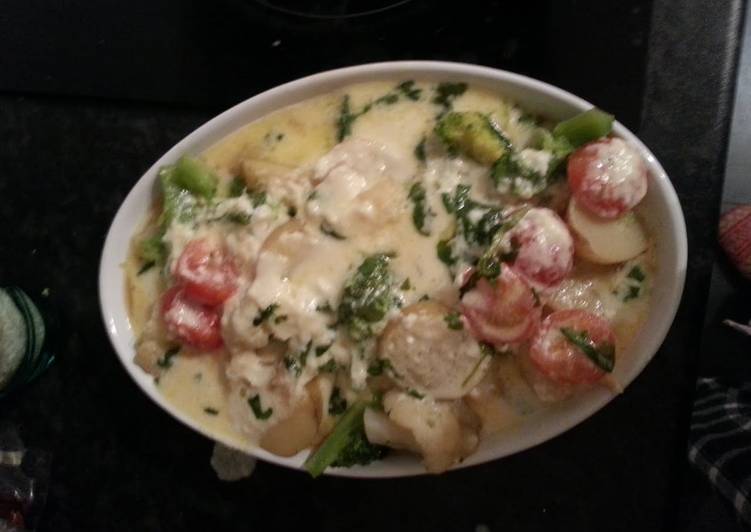 The Ultimate Five-Cheese Macaroni and Cheese Add broccoli stems and cauliflower to potato mixture. Add milk, cream, cheese, salt, and pepper to vegetable mixture. You can have Potato, cauliflower, broccoli and cheese bake using 10 ingredients and 9 steps. Here is how you achieve it.
Ingredients of Potato, cauliflower, broccoli and cheese bake
It's 100 grams of cheddar cheese.
It's 2 tbsp of soft cheese.
You need 1 of cauliflower.
It's 1 of broccoli.
It's 6 of new potatoes.
You need 2 of garlic cloves.
Prepare 1 bunch of chopped parsley.
You need 30 ml of milk.
You need 1 of black pepper.
You need 1 of vegetable stock.
Lightly puree with a potato masher until coarsely blended to desired texture. This Cheesy Broccoli Cauliflower Recipe is delicious. Add Cauliflower Broccoli au Gratin to your This CHEESY Broccoli Cauliflower Gratin recipe is the perfect side dish for holidays and weeknight And yes it's covered in cheese, but it's filled with broccoli and cauliflower, so I'm going to call it. Here is a special Mouth Watering Mondays.
Potato, cauliflower, broccoli and cheese bake instructions
Chop the broccoli, cauliflower and potatoes into slices and boil for 15minutes in vegetable stock.
Meanwhile lightly fry garlic.
Add milk and soft cheese to garlic until liquid (add cherry tomatoes at this point if you like).
Melt in 3/4 of the cheddar cheese.
Add pepper and parsley to taste.
Drain potatoes, cauliflower and broccoli and place into oven dish.
Cover in cheese sauce.
Grate remaining cheese on top.
Place in oven at 180degrees celcius for 15-20 min.
This recipe I shared on BonBon Break awhile back and now I have it It is one of my favorite casseroles and it is so quick and easy to make Broccoli Cauliflower Cheese Bake. The cheese sauce is created on its own in. Place them on a baking sheet. Remove the potatoes and cut them down the center. To serve, spoon some of the cheese sauce into the potato, then top with the cauliflower and broccoli.