Recipe: Delicious [Vegan] Corn Cacio e Pepe
[Vegan] Corn Cacio e Pepe. This speedy vegan take on cacio e pepe utilizes a classic technique: Cook the pasta just short of al dente, reserve some of the starchy pasta water to add body to the sauce, then simmer the pasta in its sauce with a splash of pasta water, stirring vigorously until the sauce is emulsified While many. Really tasty take on cacio e pepe. Several people rating this recipe have ended up with their sauce seizing.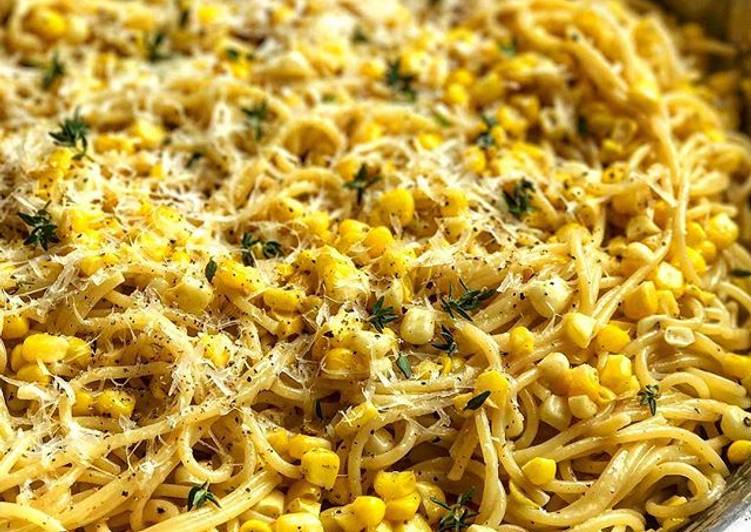 How to make Vegan Cacio e Pepe. A healthy version of the classic Italian, this creamy vegan pasta is full of flavor, super peppery and seriously delicious! During the recent lockdown, I try to go to the supermarket only once a week, which means I need to use some canned food when my fridge is out of fresh. You can have [Vegan] Corn Cacio e Pepe using 14 ingredients and 4 steps. Here is how you achieve it.
Ingredients of [Vegan] Corn Cacio e Pepe
It's of For the Corn Stock:.
Prepare 6 of medium corncobs, husked.
Prepare 6 cups of water.
You need 5 of black peppercorns.
You need 2 of bay leaves.
It's 1 of thyme sprig.
Prepare of For the Pasta:.
It's to taste of Kosher salt,.
You need 1 pound of dried spaghetti.
Prepare 1 tablespoon of freshly cracked black pepper.
You need 1 1/2 cups of corn stock.
Prepare 6 tablespoons of vegan butter, cubed.
Prepare of Reserved corn kernels.
You need 1 1/2 cups of Folloq Your Heart Parmesan.
This Cacio e pepe is a fabulous pasta dish with flavors which feel like you spent hours making it but it is super quick to put together! Ingredients for Vegan Cacio e Pepe with Smoky Chickpea Tofu Bits. Cacio e Pepe is a classic Italian dish that's pretty hard to mess up but also very difficult to innovate. There are only so many things you can change But I think I have devised kind of a brilliant loophole.
[Vegan] Corn Cacio e Pepe instructions
Make the corn stock: Slice off the kernels from the corncobs, reserving the kernels for later. Place the cobs in a medium saucepan with the remaining stock ingredients. Bring to a boil over high heat, then reduce the heat to medium and simmer until reduced to 1½ cups, 1 hour. Strain, discarding the solids..
Make the pasta: Bring a large pot of salted water to a boil. Add the pasta and cook, stirring occasionally, until very al dente, 6 minutes, then drain..
Meanwhile, in a large, deep skillet, toast the pepper over medium heat until fragrant, 1 to 2 minutes. Add the corn stock, vegan butter and corn kernels, and bring to a simmer..
Add the pasta to the pan and cook, stirring constantly, until the pasta is fully cooked and the sauce has reduced slightly, 3 to 4 minutes. Add the cheeses and continue to cook, stirring constantly, until the cheeses have melted and the pasta is fully coated in the sauce, 1 minute more. Divide between bowls and serve immediately..
My current go-to is inspired by one of my favorite pasta dishes: cacio e pepe. Sharp, salty Pecorino Romano cheese and biting black pepper join forces in an irresistible combination that lately has been seen in a whole lot of recipes beyond a bowl of spaghetti. The name is cacio e pepe: cheese and pepper. The addition of garlic changes the dish but it is still tasty. Looking to switch things up from the mac and cheese that your child (or, um, partner) insists on?